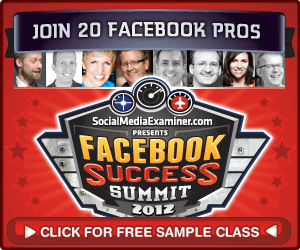 Facebook Success Summit 2012 is a special online conference designed to help you master Facebook marketing (brought to you by Social Media Examiner). Join Mari Smith (co-author, Facebook Marketing), Dave Kerpen (author, Likeable Social Media), Amy Porterfield (co-author, Facebook Marketing All-In-One for Dummies), John Haydon (co-author, Facebook Marketing for Dummies), Mark Schaefer (author, Return on Influence), Jesse Stay (author, Facebook Application Development for Dummies), experts from Campbell's Soup, Autodesk, 24 Hour Fitness and Intel; as well as Brian Carter (author, The Like Economy), Chris Treadaway (co-author, Facebook Marketing), and Andrea Vahl (co-author, Facebook Marketing All-In-One for Dummies)—just to name a few.
This is the third year of the event. Together, we instructors will cover every aspect of Facebook marketing, and my particular session will be on Facebook Advertising. Here's the blurb:
"Boosting Your Facebook Marketing Results With New Facebook Ad Techniques"
Are you looking to increase your Facebook exposure? The average Facebook post is only seen by a paltry 16% of fans. Because of this, businesses are enhancing their Facebook marketing strategies with a paid component. In this session, Brian Carter, author The Like Economy and co-author of Facebook Marketing, reveals cutting-edge, results-oriented Facebook advertising tactics. He'll show you how to best use promoted newsfeed posts, sponsored ad posts and how to combine YouTube videos with Facebook ads. Plus he'll help ensure your results are accurately tracked. You won't want to miss this session!